Chicago has always maintained that feminism is a politics that encompasses all creatures, human and non-human alike. Lamont, Chicago's beloved cat who had passed away, was immortalized alongside Chicago's central core imagery, suggesting not only feminism's applicability to all creatures, but also that love and attachment (with pets or with people) represent a feminist praxis. Chicago writes of her politicized relationship with her cats in her book Kitty City: A Feline Book of Hours, "One might say that through my work, I have often tried to act as an advocate for voiceless creatures, none more vulnerable than other species."
Chicago formed her now iconic "central core" imagery in the late 1960s in order to create a visual and art historical celebration of the vulva and female sexuality. This was and remains a radical political act, not only in terms of correcting an absence of female-centric imagery in art history, but also in terms of building a visual culture of female pleasure outside of the masculinist gaze.
Created between 1998 and 2000, Voices from the Song of Songs consists of twelve pages—six pages of image and text—and was created using an innovative combination of heliorelief photographic woodblock printing and lithography. According to art critic Edward Lucie-Smith, Voices from the Song of Songs "is a print series of stunning but carefully concealed virtuosity, which is accessible in a fashion which few contemporary artists are able to achieve. All those who have felt the emotion of romantic love will find something that speaks to them." Chicago illustrates key passages from a new translation of the Song of Songs—the only book in the Bible wherein women speak more than half of the lines. This translation appealed to Chicago because of the sexual equality of the speakers, leading perhaps, as William J. Simmons has argued, "She acknowledges the process of sexual differentiation that defined Second Wave Feminism in the gendered voices of the Biblical speakers, even as she affirms the development of new conceptions of gender and sexuality in the indeterminate figures."

Chicago credits the legendary French writer Anaïs Nin with encouraging her to write (and write she did—nine in total). This box set is a visual adaptation of Nin's posthumously published book of erotic short stories Delta of Venus (1977). Chicago's erotic artworks, when combined in a heart shaped box with Nin's prose, is a testament to the power of female pleasure, sexuality, and friendship. As Chicago writes in the introduction to the companion book, "Despite the many limitations of Delta of Venus, it remains significant because Anaïs began to break the silence about women's sexuality, as seen from one woman's perspective."
Chicago began using pyrotechnics in the late 1960s in order to feminize the atmosphere and the land, which, in Southern California, were dominated by boys and the hard, slick lines of their cars. From overpasses to parking lots and the deserts outside Los Angeles, Chicago brought colorful smoke, often emitting from empowered nude female bodies, to the harsh and masculinist landscape. Chicago continues to use multichromatic flares and fireworks for increasingly large-scale commissions, such as A Butterfly for Brooklyn (2015) in Prospect Park and A Purple Poem for Miami (2019). As Chicago writes in Through the Flower: My Struggle as a Woman Artist, her journey to learn about pyrotechnics were met with sexist violence and harassment, but the use of fireworks was nevertheless fulfilling artistically and personally, becoming a "release" for Chicago as she allowed the personal to manifest in her work.

Men creating their own retrospectives is common in art history, most explicitly Marcel Duchamp's de ou par Marcel Duchamp ou Rrose Sélavy (La Boîte-en-valise) (1936)—a box containing reproductions of his most famous works. Chicago has always been committed to empowering the self-archiving of women, so her Retrospective in a Box—a suite of ten prints surveying her career that contains, among other central series, the only limited edition print related to The Dinner Party—is, as always, a political gesture aimed at elevating women's art and its preservation.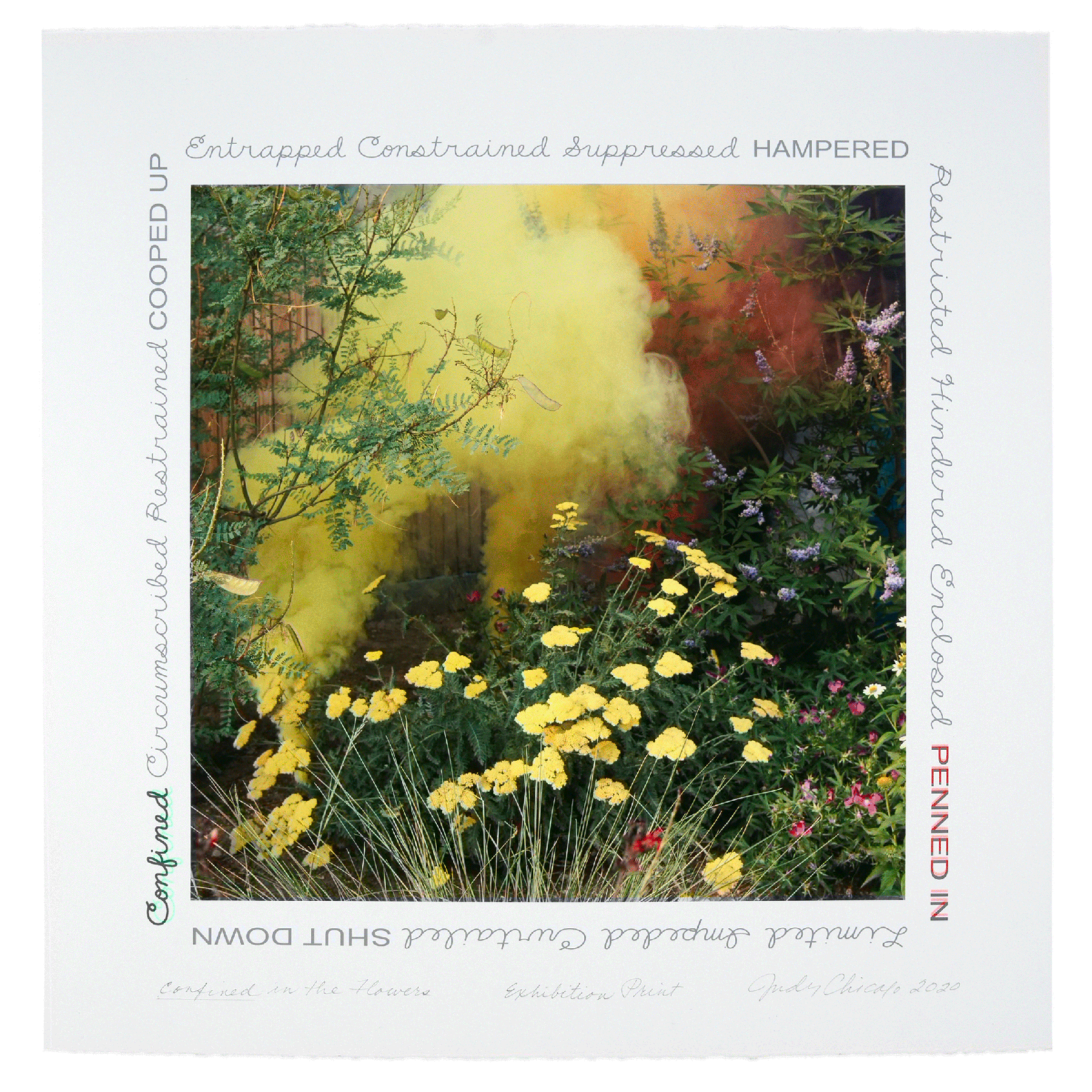 At one point during our many months of confinement due to the COVID-19 stay-at-home order, I reflected on my early days in California when I began my Atmospheres, which were intended to soften and feminize the man-made world. My friends and I simply drove around placing colored smokes wherever I wished; in parks, on beaches, in the desert and even in the national forests—which would be unthinkable today.

Over the summer of 2020, I decided to fill our own gardens with colored smokes. I surrounded these images with words that are intended to convey the many emotions I experienced as we—like the wafting smoke—came up against during all the restrictions brought about by the coronavirus. This work allowed me to express my feelings during this period; also, to attempt to wrest some moments of beauty and gratefulness from these difficult months.

– Judy Chicago, 2021